InSite SiteWork's built-in CAD viewer provides import of existing and proposed grades and other site features on even the largest projects in seconds.
InSite SiteWork Advantages

Import in seconds
Import existing and proposed grades on even the largest projects in seconds.
Built in CAD viewer
No need to purchase an expensive CAD program.
Easy to use
No prior knowledge of CAD required.
Merge data from multiple sources
Combine CAD and PDF take-off.
Automatic site alignment
Data exported with FieldLink™ or optional Field General™ Office are output with the CAD coordinates.
How It Works
Click on the CAD Import Icon
Open the CAD file to import.
Investigate the layers
Click on individual features (contour, building, etc.) to discover layer names.
Import existing
Unselect all layers and turn on the layers containing existing contours. Choose the Import Icon to import the grades.

Verify the surface with 3-D Live™
Repeat the procedure for proposed grades.
2-D files can be elevated.
Watch the progress
As each feature is imported, the thumbnail in the lower left of the screen is updated.
Enter the building subgrades
InSite's QuickStack™ Subgrades offer a tremendous advantage in taming complex sites. Continuous entities in CAD files (like these building footprint) can be selected with one click.
Trace complex shapes in seconds
To take-off more complicated shapes like the paving perimeter or the islands, InSite SiteWork has special commands that allow arcs and lines to be selected quickly, allowing the fastest possible take-off.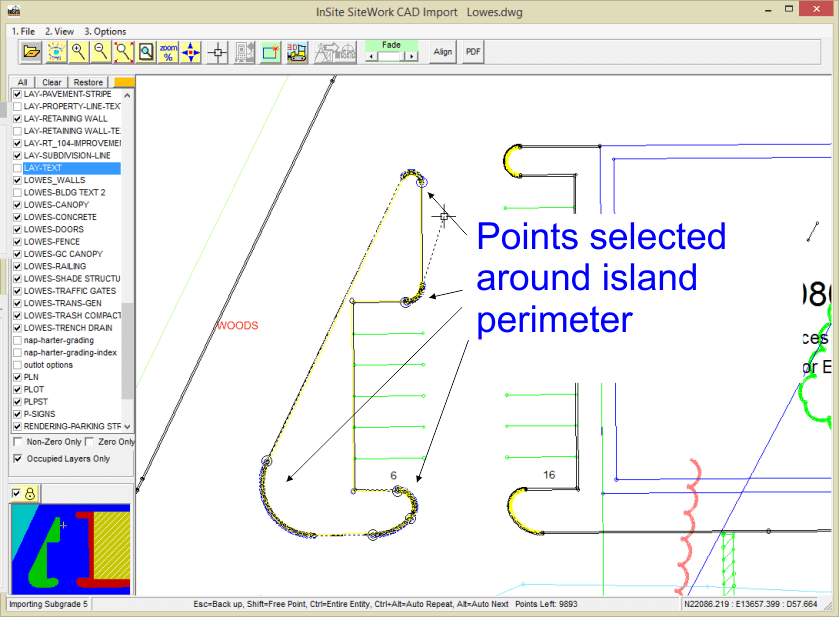 Easy additions
Add soil borings, a site boundary and any stripping or demolition.
Calculate cut and fill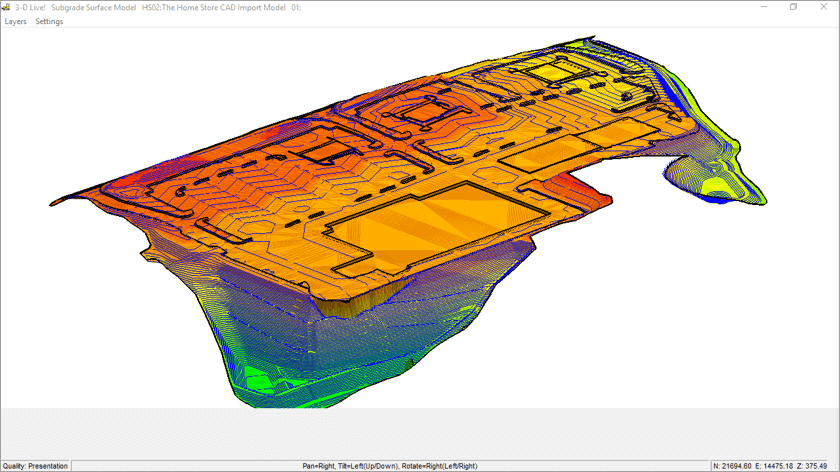 Finished
From CAD file to a complete take-off with just a few easy steps without the complexities of a CAD program!