NEW Earthwork Takeoff Software for Those Driven to Improve
By Steve Warfle, Product Manager
For over 34 years, InSite Software has been committed to delivering takeoff software that reduces the risks in lump sum bidding on excavation projects, and the wages spent creating accurate takeoffs and GPS/BIM models.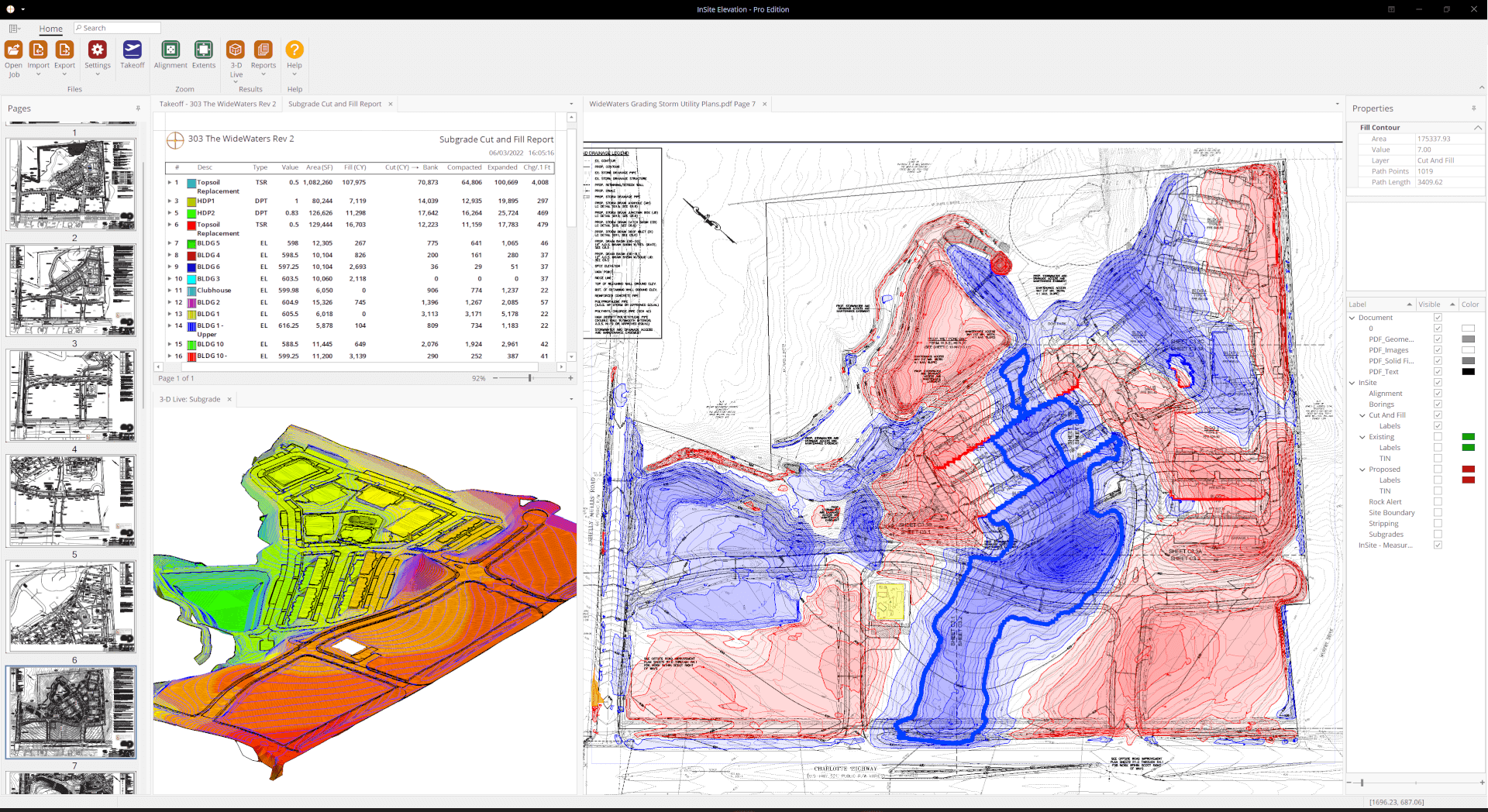 I've had the unique opportunity to watch the industry transform from the manual methods of the 80's to the automation of today. Customers who have been with InSite from the beginning will remember when takeoffs required tracing grades on a digitizer. When onscreen takeoff became the standard, we added PDF and CAD import, GPS model export, 3D Live, vector selection, and many other innovative features that made InSite the obvious choice for grading contractors.
The evolving technology of the construction industry requires constant fresh thinking and innovation. In 2018, we started the development of Elevation Pro. Our goal is to revolutionize the earthwork takeoff and GPS modeling software market. We started by working with customer focus groups, strategizing with industry partners, and studying our competitors' products. We figured out what features today's modern earthwork estimators require to increase production and minimize the wages spent on takeoff and modeling. Some of the "must haves" features included:
Easier to use with reduced training requirements.
Significantly faster.
Take advantage of the latest Windows platforms.
Support the cloud file sharing world (DropBox, Google Drive, Microsoft OneDrive, Sharefile etc.) that most of our customers have migrated to.
Allow multiple documents to open simultaneously with coordinated cursors allowing validation across each one.
Easier alignment of documents.
Faster vector selection with hover preselect to increase takeoff production.
Create an identical interface for CAD and PDF files to get new users up to speed faster and staging and many other processes have been made much easier.
Display Cut and Fill with contours for easier visibility for production planning.
Export to .dwg and PDF to provide better communication to other contractors and engineering firms.
New Site Balancer – balance a job and implement a new, fully contoured proposed surface. (ready for GPS machine export when applicable)
Apply Vector selection to Area, Length and Item Count and make this feature best in class.
Simplify GPS model creation.
Enable anyone with a Smartphone or tablet to take geolocated data to the field with Google Earth or other applications.
We are excited to announce mission accomplished! A recurring comment from our long-time customers is that Elevation Pro is twice as fast as Sitework or their previous software.
The feedback from new Elevation Pro customers has also validated our effort. Some of our favorite quotes:
"It just makes so much sense", "that is so much faster and easier." And the one that made me smile the most came from a user of an expensive established brand "It looks like your goal is world domination". In short, what Elevation Pro has given the grading industry is a modern platform built with the latest technology that will guide your success.
Elevation Pro is Subscription Software
Subscription to Elevation Pro was chosen for these reasons:
Enable customers to reap Elevation Pro benefits without a large upfront investment.
Keep subscribers productive with new features and improvements.
Provide weekly training and 7-day tech support to keep your grading team sustainable.
Provide updates to support changes to the constantly evolving Windows environment.
If you purchased a subscription, we very much appreciate your business. When you see that little blue upgrade icon, please take the time to download and install our latest as our team is working hard to assure your success.
If you are a legacy InSite SiteWork user, not on subscription, we also appreciate your business. The latest version of SiteWork (19.2.111) will continue to be supported at least through the end of 2023.
We do encourage you to upgrade to Elevation Pro. It follows the same workflow as SiteWork, and training is available weekly to help you make the transition.  It is a subscription with an increased annual cost, but the wage savings and tools to minimize risk and communicate with your team will give you a significant competitive edge.
Finally, I want to acknowledge that change is never as easy as the status quo. Any company (dirt work or software) that sits on their hands quickly fades away. I'm personally thankful for our InSite team and our customers who are "Driven to Improve".